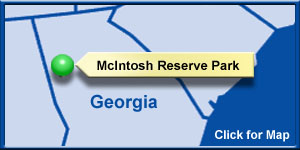 Overview
McIntosh Reserve is located in Carroll County near Whitesburg, Georgia. The park is named after a half Creek, half Scottish chieftain that was involved with many treaty negotiations between the Creek, Cherokee, the state of Georgia, and the US government. Also known as Tustunnuggee Hutkee ("White Warrior") to the Creek, McIntosh's final treaty, which resulted in the Creek's total loss of native land, was his last.

William McIntosh was assassinated here, at his own plantation he called Lockchau Talofau ("Acorn Bluff") , by a group of Creek that opposed the treaty. The history of the Native Americans is complex. It's hard to decide who the good and bad guys are when you study all the facts. Two things are for sure. it's an interesting story, and a beautiful park.
McIntosh Reserve Park, in the modern day, is a beautiful and ruggedly natural place. Hikers, campers, kayakers, horseback riders, and history nuts will all find something interesting here. The river is beautiful in this particular location, and the hardwoods and conifers scattered among the hilly landscape make for some memorable sights.
Native Americans of various nations, primarily Creek and Cherokee, come together here once a year (Late September) for a massive Pow Wow. Here's what the website says about the event:
September 25 - 26, 2011 ~ Verify dates!
FREE Admission to Pow Wow - Drumming, Dancing, Arts & Crafts Vendors, Demonstrators, Flute Players, auctions ***Vendors by Invitation Only*** Absolutely NO Politics, Drugs, BAD Attitudes or Firearms - From Atlanta: I-20 to exit 34 Hwy 5 south follow Whitesburg roundabout continue on Hwy 5 for 1 1/2 - 2 miles to Left turn on Mc Intosh Reserve Park. Newnan: Hwy 27 toward Whitesburg, Left on roundabout Hwy 5 south 1 1/2 miles to park. Alabama: Hwy 27 through Whitesburg turn south on Hwy 5 at roundabout Contact Frank Hall 770-304-3344
If you are in this area, the Richardson Tribe strongly recommends a visit.
---