What is an "Instant Adventure?"
Each week, the Richardson Tribe will feature a favorite destination based on a variety of criteria such as current local events, destination amenities, location, and regional and seasonal weather/temperature. In other words, a destination we would likely visit that week if we could (and in some cases will). The new feature article will include pictures of the destination, links to local attractions, and suggested events and activities. We think it will be helpful for folks that want an instant adventure. Just add family!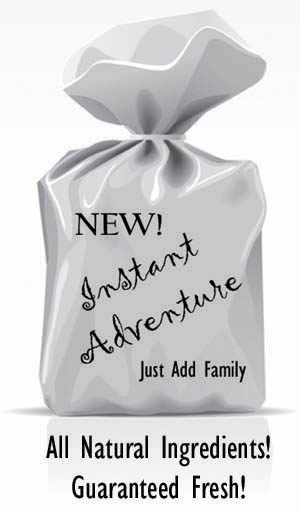 More Destinations:

Instant Adventure Archives
Things to do:
Gold n Gem Grubbin' is located at the site of an old gold mine. You can pay a fee and pan for gold and gemstones from processed dirt provided on the bank of the creek. This is a great activity for everyone. Even if the kids get bored with panning, the creek is cool and clean, so it's a great place to play or just relax with your feet in the water. Additionally, Gold n Gem Grubbin' has a covered gem mining facility where you can buy a bucket of "enriched" dirt loaded with all kinds of nice semi-precious gemstones. This activity is a lot of fun for the kids because they're guaranteed to find some nice rocks. The owner of the mine is also a jewelry designer/maker, so if you find something like an emerald or ruby, he can cut and set the stone for you.

Places to go:
Cleveland is a good home base if you plan to explore the North Georgia mountains. From here, it's a relatively short drive to Dahlonega (gold museum, historic downtown area, Smith House restaurant, etc.). Just a bit further down the road from Dahlonega is Amicalola Falls State Park, a beautiful place to hike and bike featuring the highest cascading waterfall east of the Mississippi. The Alpine Village of Helen is also just a short drive from Cleveland. Helen features tubing on the Chattahoochee River (little more than a creek at this stage), horseback riding, shops, restaurants, and more. Unicoi State Park is also located near here. A little further up the road is the coolest (temperature) destination in Georgia, Brasstown Bald. Brasstown Bald is the highest peak in the state of Georgia, so Summer temperatures are pretty pleasant up there. Near Brasstown Bald you will find Enota Mountain Retreat, also a great (but pricey) place to camp. We love Enota's mini farm with all the animals! Vogel State Park near Blairsville is another highly recommended destination, especially on Independence Day. Visit any of the linked destination pages for much more detail about the listed destinations.

Special events:
Vogel State Park, just a short scenic drive over the mountain, has a wonderful Independence Day (July 4) celebration with a flag-raising ceremony, bicycle parade, pedal boat races, sandcastle building competition, watermelon eating, sack races, egg tosses and greased pole climbing. Vogel has a beach, great for cooling off. Nearby Amicalola Falls State Park and Unicoi State Park both have similar Independence Day celebrations. The Alpine Village of Helen will have a celebration including fireworks on the 4th.

So, there you have it. Our "Instant Adventure" pick for the week and weekends of June 29 - July 8, 2012 provides a relaxing getaway to the cool mountains of north Georgia while providing plenty of sights and activities for the entire family. Have fun! To see lots more pictures and details about Gold n Gem Grubbin', click here.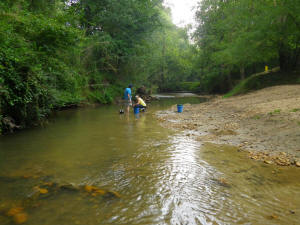 Panning the creek is a "cool" activity on a hot day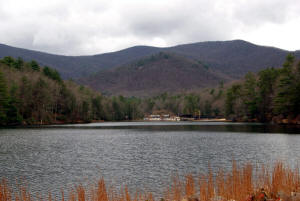 Vogel State Park, a great place to spend July 4
---
Instant Adventure #1 - Desoto State Park - Fort Payne, AL
For the week/weekends of June 22 - July 1, 2012
A place to stay:
Desoto State Park is located on Lookout Mountain in Northeastern Alabama. The park features cabins, a lodge, primitive campsites, and an awesome RV campground with large shady pads, fire rings, and full hookups (water/electric/sewer). Because the park's RV sites feature sewer hookups at a reasonable price, this is one of our favorite campgrounds for extended stays. Be prepared for some creative RV leveling, and watch out for ants. The campground and some paths are great for bikes, but I'd keep the kids off the main road. Temperatures tend to be a little cooler up on the mountain. One of the reasons we picked this park for the end of June.

Things to do:
Desoto State Park's terrain is very mountainous and rugged with large rock outcrops, but the trails are well maintained and easily accessed for hiking and mountain biking. One of the trails is a raised boardwalk, accessible to virtually everyone. The park also has a swimming pool, tennis courts, a camp store, nature center, playground (with volleyball court), and plenty of organized activities including outdoor movies in the campground.

Holidays and other special occasions seem to be celebrated in a big way at the Desoto campground. We have enjoyed multiple Halloween and Independence Day festivities at this park.

Desoto regularly hosts "campfire Talks," and interpretive series that is always interesting and educational. The evening of Friday, June 22, there will be a program about spiders. The subject shifts to snakes for the following evening.

Places to go:
Desoto State Park is a great place to begin a beautiful scenic ride/drive along the Little River Canyon. Waterfalls, rapids, curious limestone outcroppings, wildlife, and glorious views abound.

While visiting Desoto State Park, we like to attend events at the Little River Canyon Center, an educational resource provided by Jacksonville State University and the National Parks Service. On Saturday, June 30, a mountain naturalist will be presenting foods and teas made from items found in the woods.
There are many other fun places to go near Desoto State Park. Fort Payne has a neat downtown area, a large playground, and a couple of museums. One is a local history museum located in an old train depot, and the other is a tribute to the country music band Alabama (Fort Payne is their hometown). I would suggest avoiding the theater. Just down Lookout Mountain's ridge is Mentone, a charming little mountain community with historic buildings, antique shops, gifts, and a couple of exceptional eateries. Nearby Valley Head is home of Sequoyah Caverns, an awesome way to spend the afternoon (call ahead to make sure they're open). If you use your time wisely, you can scoot up to Chattanooga to visit their neat little zoo.

So, there you have it. Our "Instant Adventure" pick for the week of June 22 - July 1, 2012 provides plenty of entertainment, education, exercise, and rest and relaxation. It's an adventure that is affordable and requires little travel once you've arrived. If you are interested in visiting Desoto State Park on this, or any other week, reservations can easily be made online or by calling 1-800-568-8840. Have fun!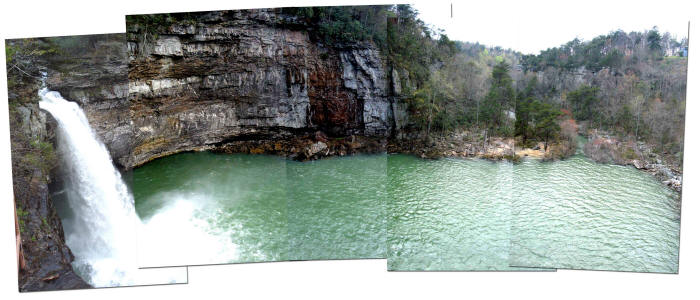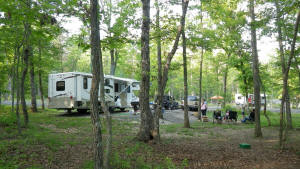 Many of the RV sites are large and wooded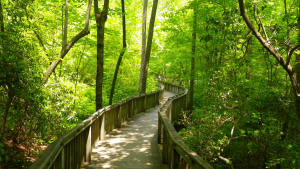 The Azalea Cascade Trail is an colorful stroll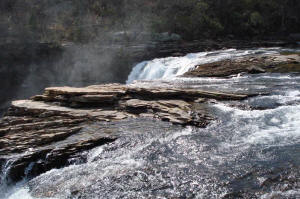 Waterfalls & rapids abound in Little River Canyon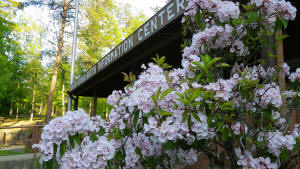 The country store has your basic needs covered
< Desoto Falls (left) is a "must see" while visiting the park. It's about a six mile hike, but you can easily hop in the car and ride directly to the falls.